nicola tirabasso

Solo project, born in 2014, is the result of a fusion between the filmic image aesthetics and the construction of sound on it. Nicola Tirabasso's performance creates a dilated spatial and temporal dimension, developing a sonic-perceptive dialectics around the concept of repetition (loop) using cut-ups, field recordings and electronic frequencies. Nicola Tirabasso got already published in VHS format for Artetetra with his "Soundtrack for Acariňo Galaico": A sonic design art piece for the movie by Jose Val del Omar and with his track "Nostra signora dei turchi" in Artetetra's compilation "Exotic ésotérique Vol.1". Soon will be published on the same label a new tape in wich Nicola Tirabasso will share a split with Valerio Maiolo (Sex with Giallone).



LINK TO THE VHS:
https://www.youtube.com/watch?v=c05qhs2h0IM


NICOLA TIRABASSO ON THE WEB
Soundcloud: https://soundcloud.com/tirabasso
---
---
BABAU
Babau is a duo consisting of Luigi Monteanni and Matteo Pennesi, both born in 1992 and raised in Potenza Picena, a small town in the Marche, Italy.
Babau (which means boogeyman or "black man" in the italian folklore) started as aN ambient/post-rock bedroom project. Following the release of the self produced ep "Tapes from the bedroom", the duo, captivated by the post-War American exotica and by many other sounds found procrastinating on Youtube, decided to focus the sound on the world music, the psychedelia and the new texan-californian dub vibes.
After some improvised sessions and a radical change of the live set (including, among the others, a bunch of ethnic percussions, a bass clarinet and an electric thai phin); the duo was invited by Manuel Kopf to record some tracks at the Plaster Studio, getting finally an new ep, Papalagi, which w
as

published on cassette tape by Artetetra (Home-run indie label, founded by Luigi and Matteo) and Narvalo Suoni (italian DIY label).



BABAU ON THE WEB:
Mail: artetetrarecords@gmail.com
Facebook: facebook.com/babauitaly
Soundcloud: soundcloud.com/bab-u
---
---
Valerio maiolo


Valerio Maiolo is an Italian composer, performer and artist.His musical work focuses on the interaction between analogically and digitally synthesized sounds in order to magnify the sound of instruments with fixed pitch classes such as the blues harmonica. Valerio Maiolo has just released a tape in collaboration with Nicola Tirabasso produced and distributed by Artetetra that hosts his last electroacoustic composition 'принцессы не какают'. Furthermore at the keyboards with the band Sex With Giallone released the album 'We had a room at Tropicana Motel' for the Italian label Trovarobato at the beginning of this year. Since two years he's been a member of the electroacoustic improvisation ensemble conducted by Francesco Giomi.

VALERIO MAIOLO ON THE WEB:
Soundcloud: https://soundcloud.com/ilio-vasilema

---
---
THE BIG DRUM IN THE SKY RELIGION
The Big Drum In The Sky Religion is a shape-shifting confederacy of dream wanderers, spirit warriors, entheogen casualties and miscreants assembled for the purpose of altering the collective unconsciousness and bringing about the total Ecstatic Awakening of All Sentient Beings and Union of the All and the One through the use of polyrhythms, fuzzboxes and senseless banjo abuse. Dilute! Dilute! OM!

THE BIG DRUM IN THE SKY RELIGION ON THE WEB:


Official page: http://www.thebigdrumintheskyreligion.com/


Bandcamp: https://thebigdrumintheskyreligion.bandcamp.com/music
---
---
NICOLA CORTI

He graduated in guitar and electronic music at the Conservatory of Florence. He is a multi instrumentalist, he plays: guitar, drums, percussions, bass and many other instruments. He started playing as a side-player guitarist in 1978 in many bands. He founded numerous bands and performed different musical genres: reggae, jazz, punk, pop, manouche, classical music,... (e. g.: Africa X, Officine Croma, Ebony Lux,...). From 1994 he works as a musician, multi instrumentalist, music therapist, music teacher. He holds courses and workshops in music instruments building with recycled material. Since 1995 he writes and compose creative songs with patients in different healthcare settings where he works as a music therapist, reaching more than 300 songs and instrumental compositions. He released various CDs with songs composed with patients affected from mental disease, alzheimer and elderly people in retirement home. Since 2000 he is member and co-founder of PAM association (a project for music therapy with elderly people) and of CROMA association (electronic music, live bands and environment sound design). From 1995 he began to create and build new instruments and different kind of drums mixing conventional and unconventional materials like PVC pipes from building construction and creating various alternative proposals to standard models. Currently he has released about 50 handcrafted models, many of whom are owned and used by drummers such as Piero Borri, Alex Raimondi, Alessandro Gimignani, Clive Bunker, Adua Tognetti, Rosa Maria Sarri. One of his last drum set models of unusual big dimensions (kick 28', tom 13', floor tom 15' and 18') has been used by Clive Bunker (Jethro Tull ex drummer) to record the last Albion Band CD in Larione 10 studio, Florence. From the same time he releases various percussion instruments like Xilohphones and met allophones, harp, viola, bass and double bass, various kind of drums, gong, bells, acoustic and quartitonal guitars, standard or radial diffusion monitors.

---
---
MOON RA/MARIE ROSE

Marie e le Rose is a sound artist. As a child, thanks to her family, she has always been surrounded by music. She began playing guitar at age of 5 and grew up as a multi-instrumentalist: bass, piano, drums, flute and many other instruments. Since high school she began having a good repute as a very talented musician. She grew up listening to jazz, classical music and french music, then she got sick for electro sounds. She approached electronic music and contemporary classical music later, around her twenties, when she discovered Webern, Berio, Maderna, Nono, Kraftwerk, Tangerine Dream, Terry Reilly and other great artists. Meanwhile she started to discover the sound design and the use of computers and machines for the production and modification of sounds. She has worked with many labels (Forrest Hill Records, No Problema Tapes, Time Released Sound, Laverna, Zamzam Records, Chemical Tapes..) and with many monikers referring to just as many concepts (Marie e le Rose, Moon Ra, MonoLogue). She compose and realize music for radio, tv and movies. She realize sound design for video installation, mapping and many other performances (e.g: Apparati Effimeri, vIDEA,...). She has performed in many festivals and places: Festival Sons Libérés (Bruxelles), Festival La Centrale (Bordeaux), FreeQ (Genova), MamBO museum (Bologna), Galerie Hus (Paris),... Her installations have taken place at: Pecci museum (Prato), Palazzo Reale (Milano),... She has done numerous collaborations with various artists (Giuseppe Cordaro aka con_cetta, with whom she formed the duo called "buttinelli.A"; Daniele Principato, with whom she formed the duo "Rue Analogique, 11", Giulio Aldinucci,...) and of course she continues her career as instrumentalist. She founded with the sound engineer Piero Bernardini "FixInTheMix LABS": a concept studio specialized in mastering, mixing, sound design composing, restoring and recording. She works with music therapy, music art therapy and she is a sound researcher.

MOON RA ON THE WEB:
SoundCloud: http://soundcloud.com/marie_e_le_rose
Facebook: www.facebook.com/MarieRoseLAB vimeo: http://vimeo.com/marieelerose discogs: http://www.discogs.com/artist/3730342-Marie-E-Le-Rose twitter: https://twitter.com/marieelerose

---
---
Kink gong

Kink Gong is the moniker of Laurent Jeanneau: electroacoustic com-
poser, ethnomusicologist and Sublime Frequencies contributor, who has
released more than 150 cds concerning recordings of ethnic minority
music, mostly from south-east Asia taken in more than 15 years of
activity. The electroacoustic activity of Kink Gong is based on the
deconstruction of the original recordings, which focus mostly on vocal
and local instruments like gongs, mouthorgans and string instruments,
into soundscapes and cut-ups. He has released on Kwanyin (Beijing,
China), Atavistic (Chicago, USA), Ppt Stembogen (Paris, France) and
Discrepant (London, UK). He has played at this year CTM festival in
Berlin.

KINK GONG ON THE WEB:
Official page: Kinkgong.net
Soundcloud: https://soundcloud.com/kinkgong

---
---
Futeisha
Futeisha aka Juan Scassa (guitarist of La Piramide di Sangue and collaborator of Craxi Driver, Krano, Gianni Giublena Rosacroce and others) is a one man project based in Turin is a mixture of tender and warm sounds and melodies from the most original latin tradition rearranged thanks to digital, tribal drums and ambient sounds tending to their most droning soundscapes. In this work Futeisha obtains a really lyric and moody atmosphere fusing the mariachi and spanish guitars with solemn spoken words and eerie musical hints ranging from filmic slow rhythms to groovy minimal ballads. The result is a charming and elegant lysergic Lynchian-style telenovela.
Futeisha already published with Old Bicycle Records and Brigadisco the album "Dannato". And the live "La via del re nel ritorno" on Lonktaar.


Futeisha on Discogs:
https://www.discogs.com/artist/3892889-FUTEISHA

---
---
TETUAN
Tetuan is an italian quartet from Marche prom to a ravaging mix of post-stoner and psych-kraut sounds with arab influences. A continuous accelerating mantra that culminate in moments of pure ambience/noise impasses and ravish sideral climaxes from the sacred ground to outer space.
In 2009 they release on Brigadisco and Onlyfuckingnoise the Ep "Tela" recorded by Mattia Coletti that also features Marco Bernacchia (Above the Tree) on the track Mumbo Jumbo and they take part in the Brigadisco's compilation "Brigadisco 3 ulula" with the song Delta del Niger.
After the release of their first Lp "Qayin" again for Brigadisco and Onlyfuckingnoise in 2013 and few live shows in some of the italian cult experimental music venues the band makes a radical change in the formation and set welcoming BABAU Luigi Monteanni (guitar, bass clarinet, zurna) and Matteo Pennesi (synths, tapes, electronics).
The passion for psychedelic and obsessive circular ambiences and structures replaces part of the noisy harsh sounds to create a new desertic, kraurish hypnotic musical voyage that gives no rest to the listener.

Tetuan on the Internet:
Facebook: https://www.facebook.com/TetuanQayin/?fref=ts
Bandcamp: https://tetuancamp.bandcamp.com/

---
---
lay llamas

April 2006 A.C. It happened during one of my several roaming through the Selinunte archeological area (650 B.C. – 409 B. C.). I reached the summit of the Gaggera hill, where lies the Malophoros Sanctuary, that eldritch worshipping site dedicated to the goddess Demeter – the place where Greek settlers used to make their bloody animal sacrifices, the place where silent funeral processions briefly stopped before taking their dead down to the Manicalunga necropolis. Right here, near the central altar, I found a small, half torn book. It seemed very, very old: several pages were badly damaged or missing. Still it was possible to read something: it was the story of an ancient people, whose origins were shrouded in mystery. They had a name but it is better not to reveal it: at the end of the XI century B.C. they could be found in the Western regions of current Nigeria but there are stories about their earlier arrival from across the great sea and the Peruvian Andes. They surely had incredible astronomical and mathematical notions. On the occasion of carefully calculated astral conjunctions, they practiced complex dancing rituals and musical ceremonies, with the entire tribe falling into a state of apparent death. Waking up, some members were mysteriously gone, never to be found again. In a small number of years this entire society disappeared into thin air. The last ceremony was held in the year 1092 B.C. The few found exhibits all carry the same four numbers: 2,0,9 and 5.
Fluorescent and hallucinogenic, Lay Llamas' sonic brew flows down the same space and time paths, caught somewhere between syncretic spirituality and sidereal forest sounds, imaginary exoticism and venerable sonic artisans. Slow, rhythmic march of ancient warriors patrolling unknown planets in search of new, miraculous rivers: SPACE JUNGLE MANTRA.

Lay Llamas on the Internet
Facebook: https://www.facebook.com/layllamas/
Tumblr: http://layllamas.tumblr.com/
Bandcamp: https://layllamas.bandcamp.com/track/the-lay-llamas
Soundcloud: https://soundcloud.com/lay-llamas-from-nigeria
---
---
HOLYPALMS

The man behind the project is Pavel Eremeev, musician
based in Moscow which we followed since a while for the productions he did as a drummer of the incredible arab/math rock band uSSSy (to us one of the most incredible contemporary rock act that we'veever heard).
When USSSY stopped to play in 2014, Pavel started travelling all around Asia and, inspired by these travels, he started Holypalms as solo project.
Armed with his quarter-toned baritone guitar and his laptop, he quickly developed his unique sound that he calls "electro-noise-raga": a crunchy and noisy approach to classical ragas compositions with a high gain on electronic beats.
The ep Baba and the several bootlegs online are a good example of his style. The 1-st album \Tribute to snake charmers music" released on tape by Cancelled records appears as Pavel's interpretation of old melodies of snake charmers of India.

Holypalms on the net:
Soundcloud: https://soundcloud.com/holypalms
Facebook: https://www.facebook.com/holypalms

---
---
Cheap galapagos

Cheap Galapagos is a duo composed by Luigi Monteanni and Giulia Bencini in which the couple explores the world of cheap and kitsch post-internet exotica. From the sounds of hawaiian and samoan 50's music to field recordings and environmental ambient to the newest vaporwave, 8-bit and lo-fi tropical experimentations, the couple tries a complete approach curating the music as well as the graphical aspects of the project, trying to give new shapes and futuristic sights on wastelands of bad taste commercial and turistic music that were born to be old and vintage.





Cheap Galapagos on the net:
Facebook: https://www.facebook.com/Cheap-Galapagos-1516576718594306/?fref=ts
Bandcamp: https://hysm.bandcamp.com/album/3d-exotic-resort-hysm-120

---
---
hybrid palms

Hybrid Palms, only project by Kostantin Shkolnikov is a simple mix of sounds of different tropical nature: from tender reeds to liquid synths, to deranged and trashy digital ambiences to slightly emotional arpeggios progressions directly from the eighties. Kostantin brings together the compositive sweetness of Michael Nyman and lonesome and rarefact atmospheres a' la Komodo haunts. His research develops into the fields of early Synthwave and late vaporwave with compositive knowledge and warm juxtaposition of sounds.



Hybrid Palms on the net:
Bandcamp: https://hybridpalms.bandcamp.com/

---
---
aK'CHaMEL

Ak'Chamel or master and almighty folkdoom givers of illnesses from Houston, Texas.
Previously known as Chairs, Ak'Chamel is a trio interested in the darkest and most hidden shades of ethnic and occult sounds who defines its work as "fourth world music from a border state". Armed with guitar, drums, cheap electronics, bass, several selfbuilt instruments they develop admirably an ensemble of atmospheres that recalls stuff as Father Murphy, Death in June, Popol Vuh and Dwarves of East Agouza and that fit perfectly with the band's aesthetics which is right in between the north-american shamanic/beastmen/medicine-men costumes, True Detective's satanic-pagan symbology and the masks of sardinian folklore.
The trio creates suggestive musical ambiences drawing elements from the most different traditions (from cumbia to exotica, from black metal to turkish, anatolian and mauritanian music) bringing them to the limit proposing their version of fourth world music that could be either music from another world or music from the underword.
To refine their unique mood the group chooses the warm sound of the mediums of the cassette format that seems to be part of the whole project and that makes the albums sound like a rare witness on tape of an ancient civilization full of sadness, suffering and darkness, a culture of another dimension whose lost populations expressed in their cultic chants the weight of every single moment that from birth leads to death.
.Ak'Chamel builds its own idea of ethnic music as a synonym of alien music, which pertains to the total alterity of man, to the total "unconnue".
When it comes to talk about surfing black magic and to officiate obscure pagan rites in the swamps consumed by otherworldly music, unknown drugs consumption and incomprehensible formulas to offer to the elders Ak'Chamel definitively knows his shit and in the future will not do anything else that continue to study in deep this abysses.

Ak'Chamel on the web:
Facebook: https://www.facebook.com/giverofillness/
Bandcamp: https://akchamel.bandcamp.com/

---
---
adamennon



Adamennon started in 2006, as a black ambient project, a tribute to the french scene of "Les Legions Noires". His sounds was a blend of black metal sonorities from the early nineties and the most obscure dark ambient, drone and industrial sounds.
Starting from 2010 the project evolved towards different musical styles, keeping its focus on the dark end of the musical spectrum. The biggest influences were italian Prog music and dark sound from the seventies which lead to Adamennon's first new work entitled "Nero" (2011). While working on his SFR Studio from 2011 onwards, Adamennon had the chance to explore the possible coesion between melody and noise, organs litanies and synthetizers, through his work as a producer or guest in other bands like Saturnine, Black Temple Below, Liturgia Maleficarum and others.
In 2012 he self-released what can be considered his final evolution in sound from this period: MMXII. The album is different from any previous and it's totally inspired by italian musicians like Goblin, Jacula or composers Fabio Frizzi and Walter Rizzati. The result is a mixture of darkness and shafts of light, analog melodies and synthetic dissonances following the same path towards the unknown which can only be imagined through the sounds which announce it.
In 2014 Adamennon collaborated with Alessandro Parisi for "Il Plenilunio del Fuoco" which marked a new interest in electronica and Kosmishe Music and it's broadening his collaboration with Alessandro Parisi.

Adamennon on the web:
Facebook:
https://www.facebook.com/Adamennon/
Bandcamp:
https://adamennon.bandcamp.com/

---
---
Powered by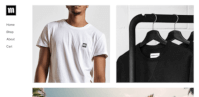 Create your own unique website with customizable templates.